What is Quality Assurance ?
What is Quality Assurance?
Quality Assurance is popularly known as QA Testing, is defined as an activity to ensure that an organization is providing the best possible product or service to customers. QA focuses on improving the processes to deliver Quality Products to the customer. An organization has to ensure, that processes are efficient and effective as per the quality standards defined for software products.
Quality Assurance: Complete Process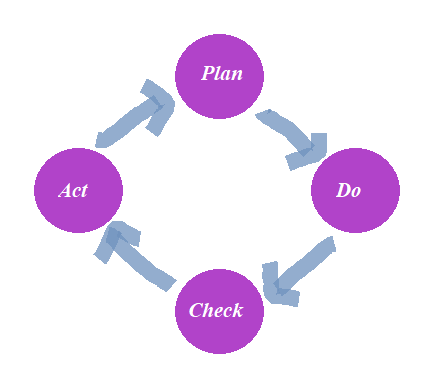 Quality assurance has a defined cycle called PDCA cycle or Deming cycle. The phases of this cycle are: Plan, Do, Check , Act
These above steps are repeated to ensure that processes followed in the organization are evaluated and improved on a periodic basis. Let's look into the above steps in detail -
Plan - Organization should plan and establish the process related objectives and determine the processes that are required to deliver a high-Quality end product.
Do - Development and testing of Processes and also "do" changes in the processes
Check - Monitoring of processes, modify the processes, and check whether it meets the predetermined objectives
Act - Implement actions that are necessary to achieve improvements in the processes
An organization must use Quality Assurance to ensure that the product is designed and implemented with correct procedures. This helps reduce problems and errors, in the final product.
Quality Control and Quality Assurance?
Examples of QC and QA activities are as follows:
| Quality Control Activities | Quality Assurance Activities |
| --- | --- |
| Walkthrough | Quality Audit |
| Testing | Defining Process |
| Inspection | Tool Identification and selection |
| Checkpoint review | Training of Quality Standards and Processes |
Question 4: Quality Assurance is the process by which product quality is compared with the application standards and the action taken when nonconformance is detected.
True

False
Answer: A
Note for me:
Nonconformance: không phù hợp
To be informed of the latest articles, subscribe: